The client is a film production company that wanted a tool that could achieve three things:
1. a project management app that catered to the special needs of the film industry and workflow.
2. A way to see the availability of their freelancers, with the  option to become a film freelancer platform in the future.
3. A film budget creation, and maintenance tool, as well as film production asset management tool. 

The key things the client needed upon opening their screen was to know "what needs to be done right now? We are we on various projects? Where do I need to be?"
When the client says "it won't be used on mobile"
During our meeting the app was specifically not requested to be made responsive or mobile friendly "at this stage". I plan for people wanting to do that eventually. 
I used ipad friendly artboard sizing and made the side navigation at least mobile-friendlier to use with this collapsed view and

multi-add button

(scroll down to read).

 
The client really wanted a gantt chart as their first view to know what stage every active project was in and how much was left, and to be able to quickly adjust the expected completion dates when and if delays crept up. Gantt charts are hard to make responsive, or use without mistakes on mobile, so as a compromise and forward planning, I added this extra view of a list calendar.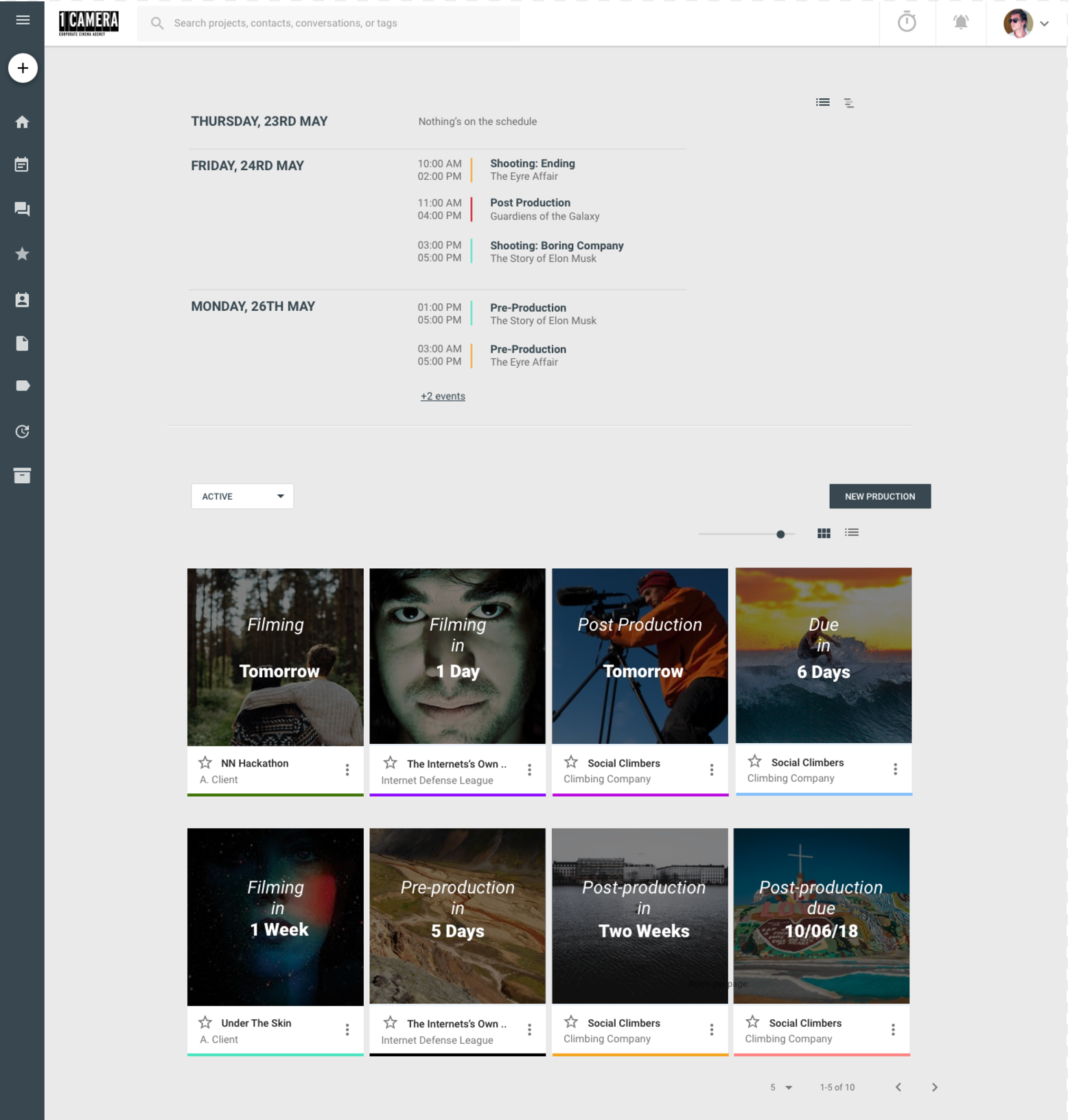 The gantt chart view of the home screen
The budget builder
The client needs to be able to see:
1.  a budget to present his clients (the client budget)
2. See the entire cost of production (the production budget) 
3. The margins on the budget ("are we making money after flying out these freelancers to thailand? breaking even?")
4. be able to adjust groups of activities quickly if the margins are not profitable. 
In this view the budget is displayed as either red (not good) or green depending on a minimum margin size the client specifies (the margin size % set). It's instant and clean. You can multi select all the items in the list and group adjust the margin percent to adjust their prices to get you back into the green.
The budget can be sent to the client from this view or downloaded.
This side bar with the red/green view was inspired by YNAB's old desktop version of the app.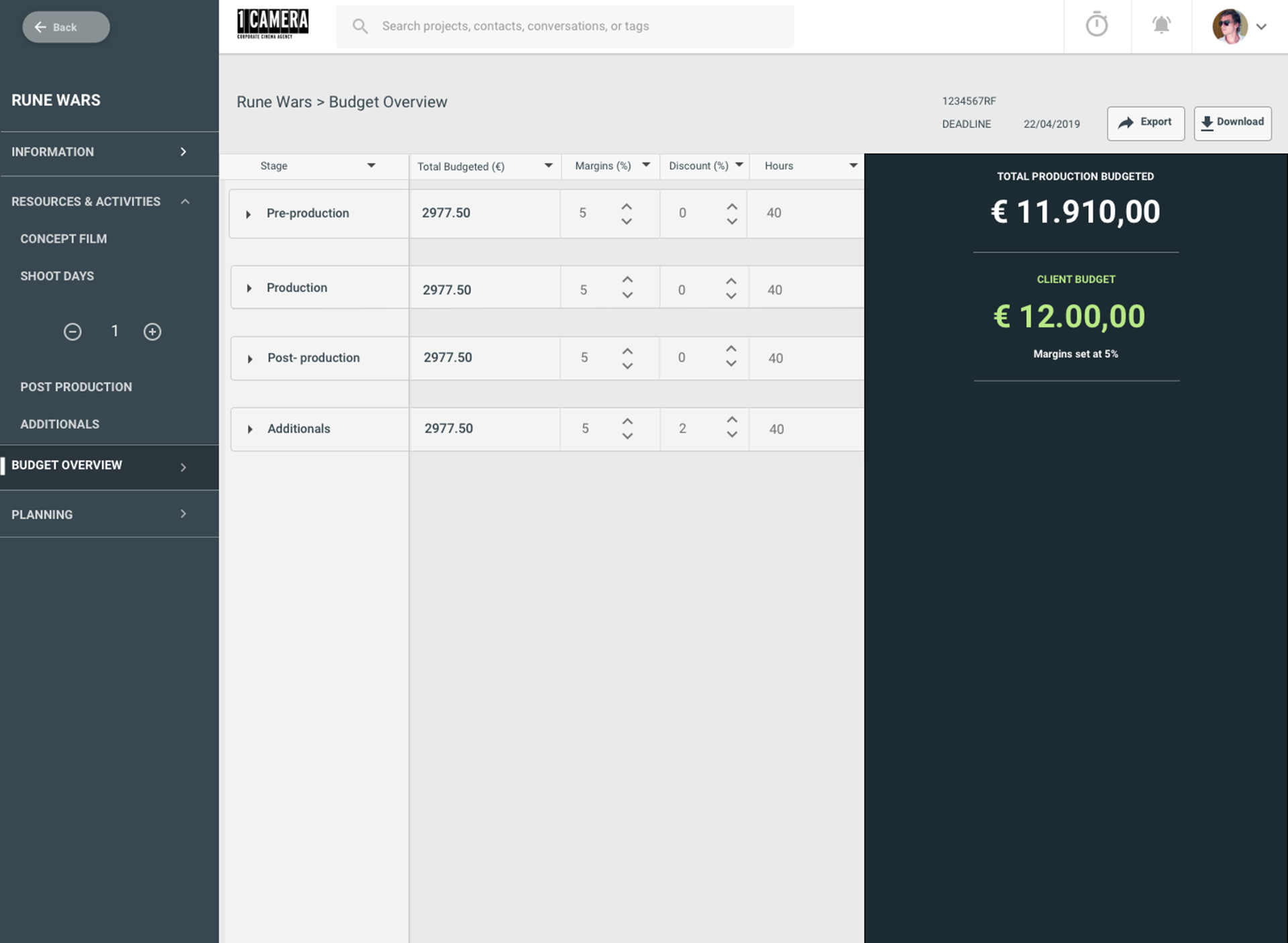 The multi-action button
Creatives need freedom and flexibility. And a little bit of structure to capture our ideas. A key thing was to make a way to add a variety of information such as:
4. ideas, photos, scanned documents 
and have them appear in the relevant sections and projects.
The client requested something "As easy as writing a tweet. with hashtags"
So this button was mostly inspired by the todoist add item button, which is possibly the easiest interface I've come across with so many possibilities added with tagging and hashtags. 
To further take cognitive "work" away from the user, I got a bit assertive with the default options: hitting the reminder button simply reminds a user of the event tomorrow. 
Recent projects are listed as options but writing a hashtag into the text will sort the information to that project.  An earlier version had the option to create a project this way, but the client prefered to have a seperate flow for that.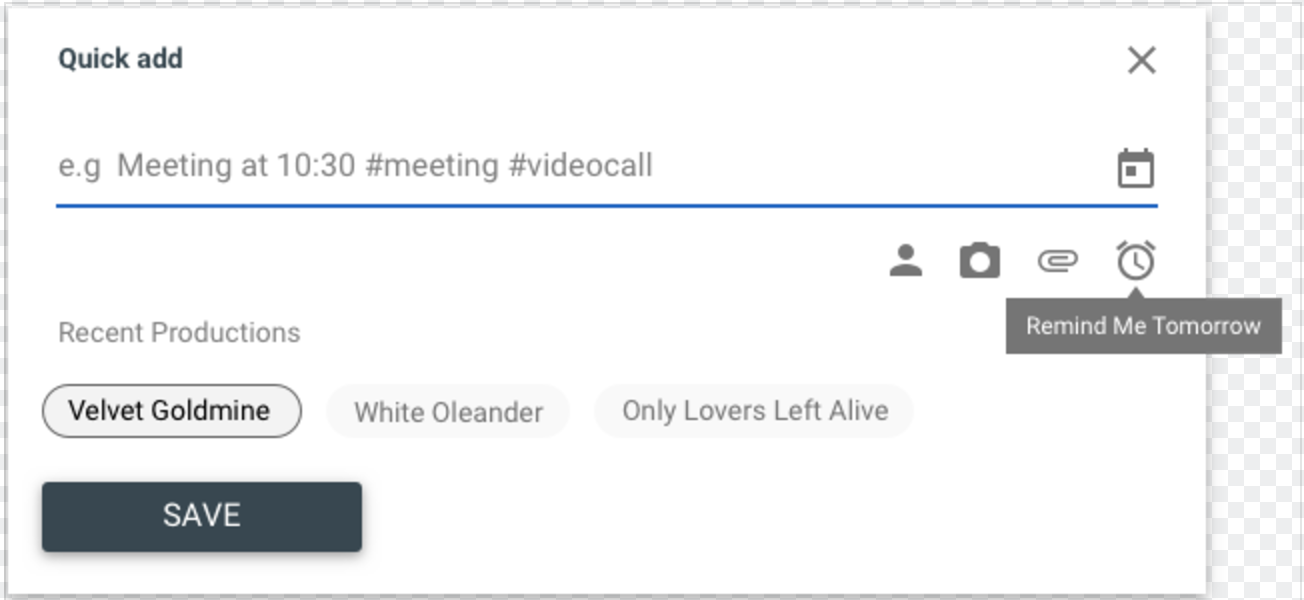 Managing project resources
Using the "hashtags to write in new categories" idea, the activities and resources page allows users to create new activities without breaking their user flow. It may sound silly, but my personal pet peeve with using so many apps for time tracking or project management is having to create a new category or project in a separate screenflow. It's a distraction from an already complex task of planning a projects' resources. 
Shoot days can be added or subtracted quickly in this view as well.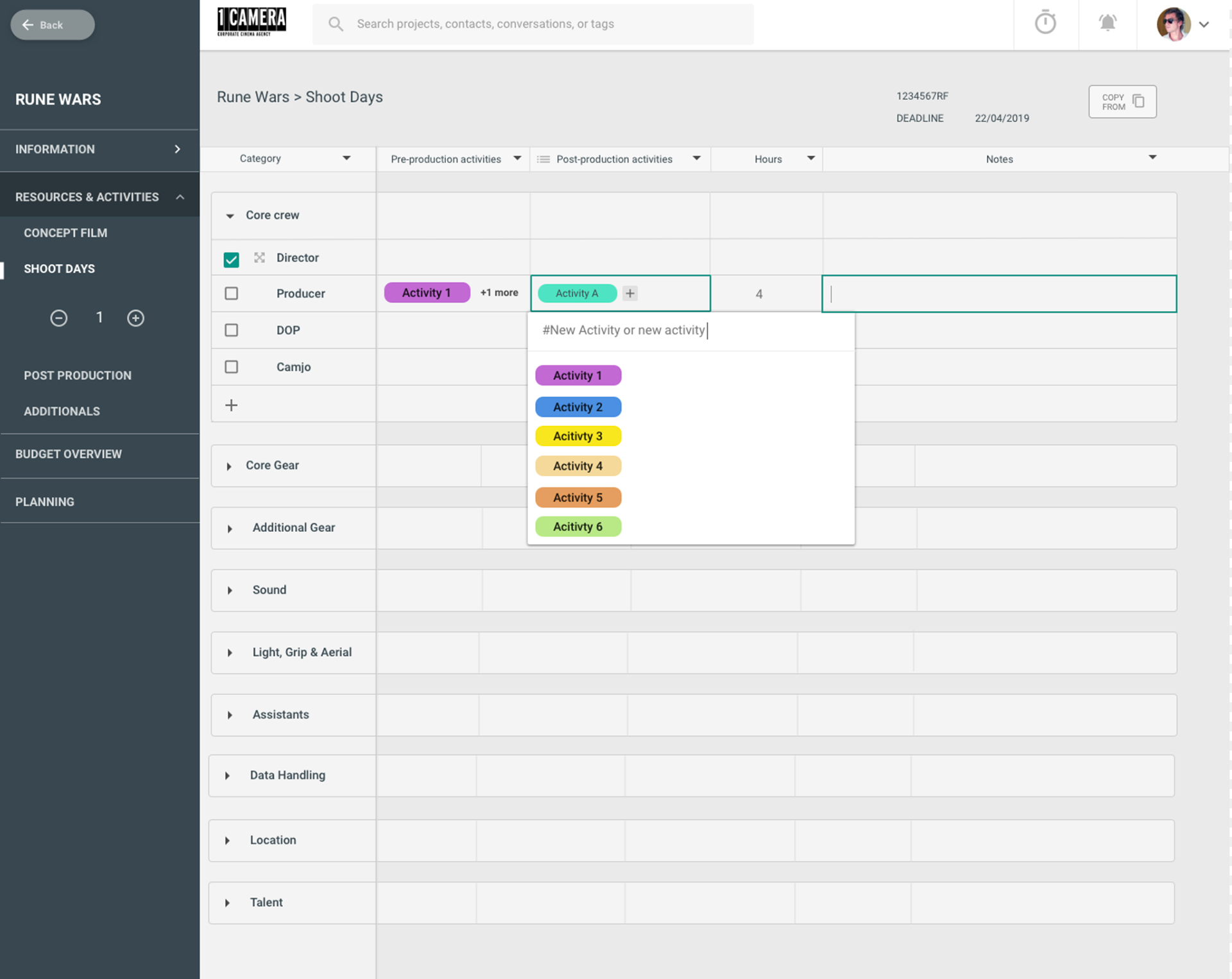 Adding in freelancers or staff workers to a project
Each row in the table view has an expand button that allows it to act open into a webform view.  this is most useful for bulk edits, like in this screen for adding a producer to a project.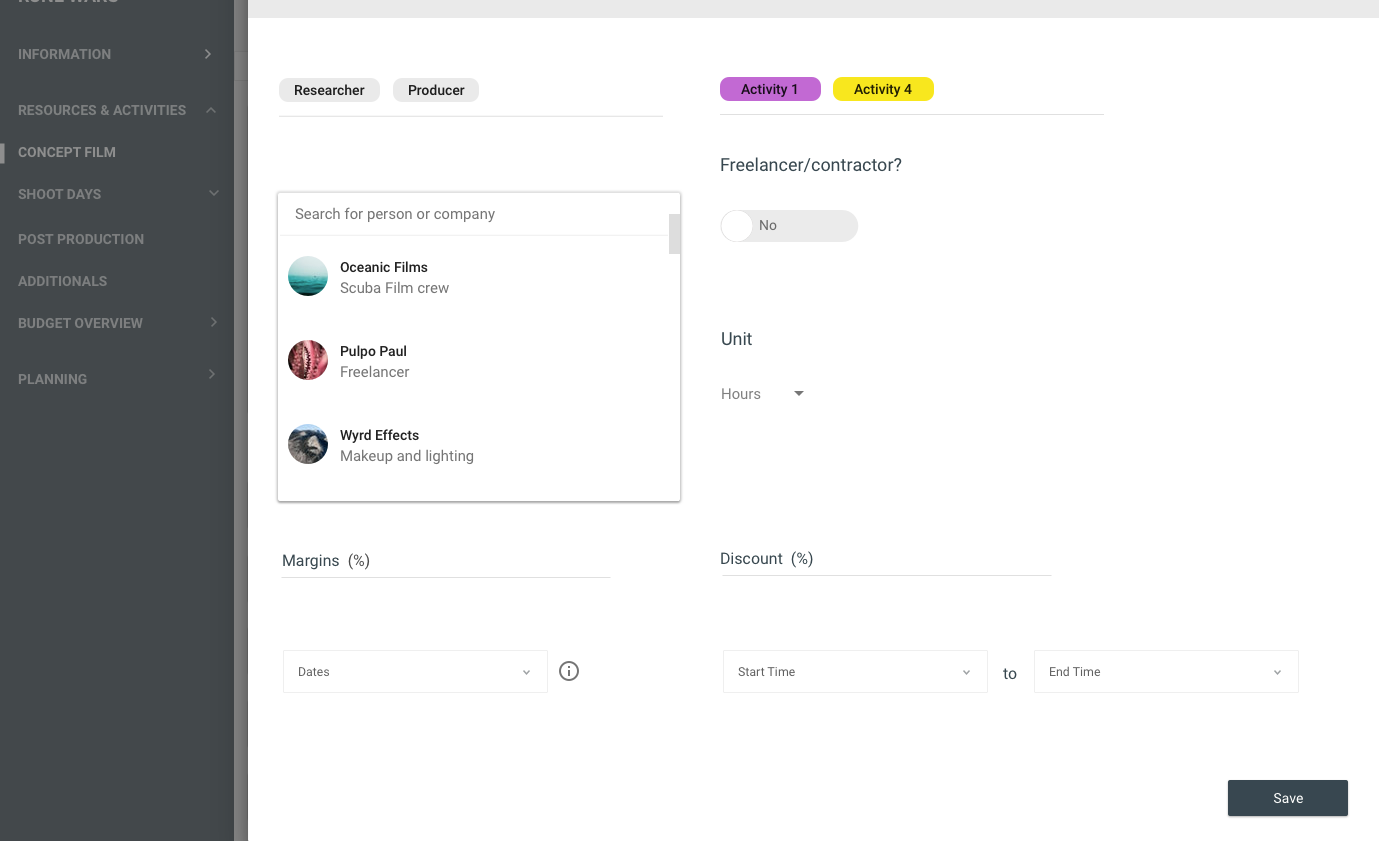 Rejected Concepts
An earlier concept for being able to see film proposal status. The client liked the precision of using indesign for proposals.